FCA and Kenya women recognized by an ally of women's empowerment
Former President of Estonia highlighted how information and communication technology, such as the Internet and mobile phones, are powerful tools for increasing women's voice and encouraged women to embrace technology.
WOMEN IN KENYA have a powerful ally in the former President of Estonia, Kersti Kaljulaid, one of the most powerful women in the world. When elected in 2016, Kaljulaid was the youngest and first woman to be elected as president of Estonia.
During her term, Kaljulaid highlighted the issue of domestic violence and championed birth registration for every child. Visiting Kenya for the first time in 2021, Kaljulaid joined more than 500 women and ten non-government organizations that aim to empower women in Kenya. Women from education, handicraft, information technology and fashion attended the Women's Empowerment Breakfast organized by Mondo, an Estonian NGO (one of FCA's partners).
ICTs can help empower women
The former President Kaljulaid said that she is thrilled that the collaboration with FCA aimed empower women and youth through creative industries.
"ICTs can increase women's and girls' access to knowledge and information beyond their immediate environment and enable wider professional networks," she said.
Kaljulaid also highlighted how information and communication technology (ICT), such as the Internet and mobile phones, are powerful tools for increasing women's voice and encouraged women to embrace technology.
"ICTs can help shape the aspirations and hopes of the next generation of women and girls, including their economic opportunities, expectations of gender roles, and leadership abilities", she said.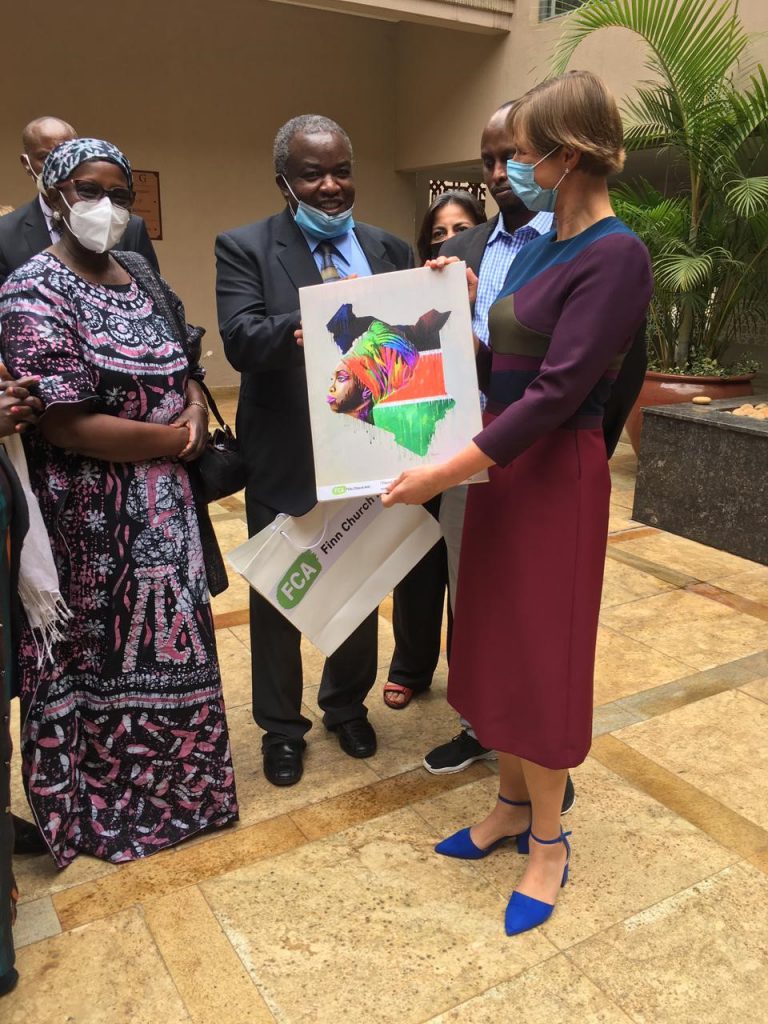 Showing an example with digitalization
Like Kenya, Estonia is a world leader in digitization and has been described as the 'world's most digitally advanced society. Following a strategic government policy and deliberate investment in IT infrastructure, the country started e-banking in 1996. E-IDs followed in 2002, and now almost every bureaucratic task can be done online in Estonia.
In Nairobi, 60 percent of the population lives in Eastlands where many young people struggle to find employment and do not have access to digital learning opportunities. FCA Kenya and Mondo are training 250 young people with hands-on skills in photography and videography, online music recording, and other digital economy skills.
John Bongei, FCA Kenya's Country Director, presented shared more about the impact of our work in the education sector, peace and livelihood to the audience present during the September 2021 break with the President.
"FCA is honored to be recognized by woman who has achieved so much for herself and her country. She is an inspiration to all of us, and we look forward to following her example through our work with Mondo," Bongei said.
According to Kaljulaid, Covid forced the global education community to step away from business as usual and to work in partnership even more, identifying alternative ways for children and teachers to continue learning remotely. In isolated areas this means providing quality educational resources for teaching and learning.
"I am glad that Kenya has solutions for children to learn virtually despite the Covid disruption," said Kaljulaid.

By: Elizabeth Oriedi